Welcome to
RobbyLockeby.com

My name is Robby Lockeby and I offer several computer and image related services
in the Mountain Home, A R / Gainesville, M O area.
---
WEB DESIGN
I will work with you personally to design and build the website you want. I offer one-on-one individualized service guaranteed to make you happy.
ANIMAL PHOTOGRAPHY
Perhaps you want a special picture of your favorite pet. I am an animal lover and would welcome the opportunity to photograph your furry friends.
CODING ASSISTANCE
Maybe you are building your own website, but you need a little help with some of the coding in H T M L, C S S, or JavaScript. I can help you achieve your web building goals.
PRIVATE COMPUTER LESSONS
Do you need help navigating the web or learning how to use social media to keep in touch with the grandkids? I can help you learn to make the most of your personal computing experience. I can offer advice and tips on how to keep your computer safe while browsing the internet. I can also help you learn to use software such as Word, Excel, Power Point, and Photoshop.
PHOTOGRAPH RESTORATION
Sometimes our treasured memories do not stand the test of time. Photographs often fade or get discolored. Sometimes pictures get bent, crinkled, or marred. I can help restore your old photographs without further damaging the original. I will make a high quality digital copy of your original damaged photograph. I will then electronically retouch the digital copy and return the original back to you along with the restored copy. I can also work with negatives.
IMAGE RETOUCHING
Have you ever taken a photograph that was perfect except for that one blemish? I can retouch your photographs removing anything from pimples to an ex.
A D A

COMPLIANCE SERVICES FOR WEBSITES

Are you reaching all of your target audience? Accessibility for users with special needs is often overlooked when websites are built. I can help ensure everyone is able to use your website by making your website meet A D A compliance standards for the internet. The following screenshot shows the progress that was made on the Arkansas State University Mountain Home website while I worked with the I T department there to resolve numerous accessibility issues. The chart shows a dramatic reduction in the number of Level A issues along with a modest reduction in the number of Level A A and AAA issues.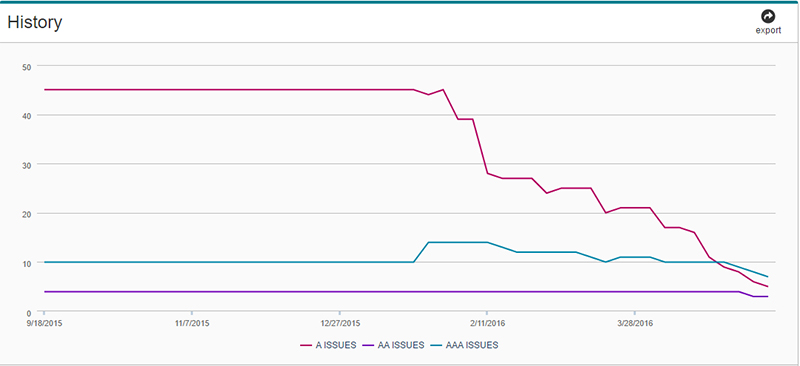 SPECIAL PROJECTS
Perhaps you would like a picture of your son flying through the sky like superman for his birthday. Maybe you would like a logo to print on napkins for your daughter's sweet sixteen party. I can design your logo and provide a high resolution file for you to take to your printer.
Thank you for considering Robby's Web Design
© Copyright 2017

- by Robby Lockeby All Rights Reserved.